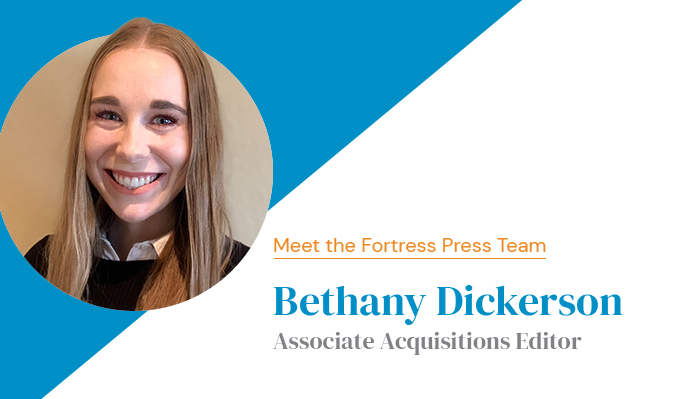 Meet Bethany Dickerson, associate acquisitions editor at Fortress Press. Before joining us here at Fortress, Bethany earned her M. Div. from the George W. Truett Theological Seminary at Baylor University and interned at Baylor University Press.
How did you end up in publishing? And what attracted you to Fortress Press?
I was an English major in college and knew I wanted to do something where I could read and write. I originally wanted to go into trade publishing, and so I got an internship at my university press, not knowing the difference between trade and academic publishing. I ended up getting a job at the press while I was attending seminary, and it worked out that I fell in love with academic Christian publishing!
Fortress was the perfect next job for me because it is Christian academic publishing but for a more general audience rather than straight scholarship in monographs. I love our mission at Fortress, and I like that it is a bigger team of editors all working together toward that mission.
Now that you're here in the publishing world, what do you want the next steps in your career to be?
My next step is to be an acquisition editor. I love talking to people and making connections, but I also love my alone time (most of which is spent reading). An acquisition editor gets to do both—talk to authors about ideas and edit manuscripts. It's the dream!
What's something you wish people knew about the publishing world? Any misconceptions you'd like to dispel, or just a fun fact?
Academic publishing is not just textbooks! I think people hear "academic" and they think of boring books you read in a classroom, but that is not the case at Fortress. While we do publish scholarship, we also publish books that are captivating, encouraging, and stimulating!
What is a piece of media you've consumed recently that has resonated with you? It can be a book, TV show, or movie. And why did it resonate with you?
Last summer, I read Song of Solomon by Toni Morrison. I have read probably twenty books since then, but I am still thinking about it. While the book was about Milkman and his journey to find his family, the women's lives are what really resonated with me, especially Hagar. I related to her so deeply in her secret yearning for love. Her emotions as well as the other women's emotions are so real and raw. My favorite novels all thread together the beauty and tragedy of life, and Toni Morrison always delivers.