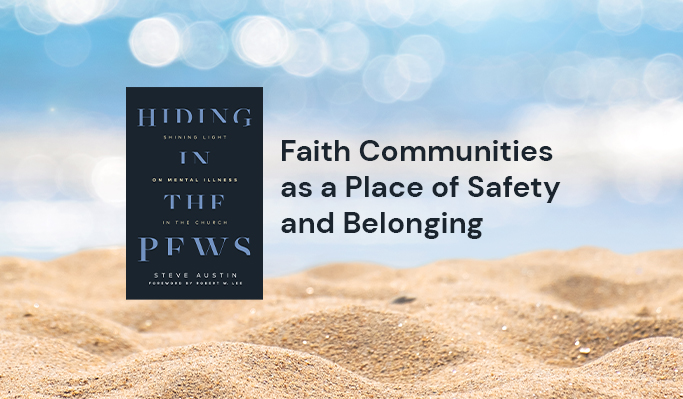 Trigger Warning: this book contains explicit discussion of trauma, mental illness, childhood sexual abuse, and suicidality.
I cannot remember a time when I wasn't a regular church attendee, at the very minimum. I sang my first solo in our church's Christmas play before I entered kindergarten. I was a youth leader in high school, went on multiple short-term mission trips, spent two years in Bible school after high school, and served as a youth pastor or worship leader (or both) in various evangelical churches for the better part of a decade. And then, in 2012, I nearly died by suicide. This launched me on a journey: one of opening my eyes to the widespread problem of mental illness and how those suffering from it are treated in countless congregations. I began to wonder if my experiences, and the experiences of those like me, could have been prevented if mental illness had been a regular, normal part of our Christian conversation. If talks of mental health, therapy, suicide prevention, recovery from abuse, and other difficult issues had been normalized in church services and Sunday schools, would that have changed my entire story and experience? Would it have prevented me from ever attempting suicide?
As it turns out, I'm not alone in my experiences with mental illness and the church. When I first shared my story via my blog in September of 2013, hundreds of comments, emails, and social media messages poured in from around the world. Other hurting Christians who had spent years hiding in the pews and behind the pulpit were suddenly feeling less alone by reading my blog. The stories strangers found the courage to share with me helped me feel less alone too. The initial blog post, "From Pastor to a Psych Ward,"1 is the basis for the book you now hold and the spark for my passion to cultivate church reform so that our local churches become safe places for all people, especially those who face stigma and shame due to illness, disability, race, gender, and sexuality. While my primary focus for the past several years has been on everyday Christians and spiritual misfits, this book is aimed specifically at church leaders: pastors, board members, and lay leaders. You are the ones who hold the primary responsibility for transforming church culture, and I want to partner with you to make that sacred revolution a success. I also want to mention that I spent the first thirty-six years of my life in the evangelical world. I was born a Southern Baptist, spent nearly twenty years in the Assemblies of God denomination, and worshipped with the Methodists for a couple of years before finally, in the past year, falling in love with my local Episcopal parish. So if my evangelical roots shine through in various places in this text, you'll understand why. However, I firmly believe that the principles and practices in this book can also serve mainline churches and other Christian traditions. Because even if our labels are different, many of us know the desperation of feeling all alone while surrounded by a congregation of fellow believers.
As you start this book, you'll notice that each chapter covers a topic or theme about mental illness and the church, including a practical application section to help guide leaders on a journey of transforming their church culture. Why? Because this kind of total overhaul begins from the inside out or from the top down, and sometimes those of us on the top and on the inside need help taking the first steps toward that overhaul.
You should know, I'm not a mental health professional, nor am I a researcher. But after surviving a suicide attempt, I became a vocal advocate for mental health, and I am passionate about this truth: storytelling saves lives. As I prepared to write this manuscript, I surveyed eighty people, composed of current and former church leaders and current and former Christians (from a variety of denominations and congregations). I asked each of them the following questions:
Please describe your experience with the church. What caused/causes the church to feel like an unsafe place to share your story?

During your season of despair, did you feel seen by the church or like you had to hide? Please share the good, bad, or ugly. I'm looking for both positive and negative feedback.

How did that experience make you feel? (In other words, What do you wish the church knew about the people hiding in their pews and/or behind their pulpits?)

What's one bit of advice you'd give church leadership to help us become a safer place to heal?

Is there anything else about your experience with the church that you'd like to share—especially if it could help the church better serve those who are hurting?



Their pain came through in each response—several of which I share in this book—but in many, their hope for our churches to become genuine places of refuge was also loud and clear. Their responses deeply resonated with me because I, too, have had similar experiences: I have been wounded by churches due to their actions and inactions, and while I became outraged for a while, I have also spent years in therapy, working through my anger and pain, and it is now my hope that our church communities can become the first places people think of when they are looking for somewhere where they will be safe and have a sense of belonging.
But we've got a long way to go, beloved. Let us therefore embark on this journey together.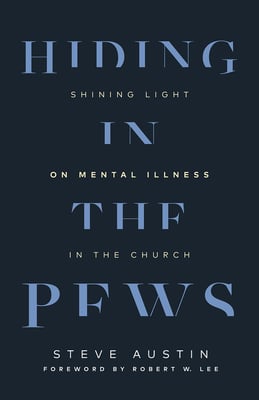 This is excerpted from the preface of Hiding in the Pews: Shining Light on Mental Illness in the Church.
If you are suffering from mental health concerns, contact your doctor or other health professional. These hotlines are also available:

The National Alliance on Mental Health Helpline (800) 950-6264
National Suicide Prevention Lifeline (800) 273-8255
Substance Abuse and Mental Health Services Administration National Helpline (800) 662-4357
National Domestic Violence Hotline (800) 799-7233