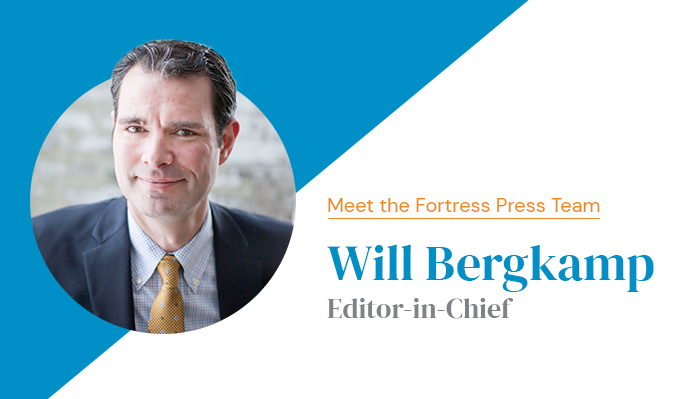 Every month we'll be profiling a member of the Fortress Press team, and over time, you'll meet everyone from editorial to marketing and publicity. You'll learn how we came to be in the publishing industry, what discipline areas our editors are looking to acquire books in, and tips on how to promote your book in collaboration with your publisher.
Will Bergkamp is Editor-in-Chief of Fortress Press. A publishing veteran, he has worked on nearly all sides of the book business, from bookstores, marketing, business development to editorial.
How did you end up in publishing? Why have you decided to stay in this field?
My career in publishing is mostly an accident! I always wanted to be a scholar but didn't trust the assurances that there would be plenty of jobs to make it worthwhile to pursue a PhD.
So, while I tried to figure out what to do next, I worked in bookstores. Bookstores and retail led to jobs in publishing sales and marketing, and ultimately onto the editorial side.
It's been a very odd ride, but I'm grateful to have seen all sides of the publishing business over the last twenty years and to have made a career here.
What's your vision for Fortress Press? How does that vision influence what books you choose to publish?
"Scholarship That Matters" is a tagline we've used for quite a few years now. We keep it around because it speaks to an ongoing effort to ensure that scholarly work remains relevant to the larger concerns of our day.
In any of our categories—from biblical studies and theology to church leadership and preaching—we want credible, thoughtful scholarship to make a real difference in the world.
So in a word, relevance. Fortress Press serves many different audiences. Some of our books are by scholars, for scholars. Some are for the classroom. Others are for women and men leading in Christian communities. In each case, we want the book to be relevant and helpful for the important tasks at hand.
What is a piece of media you've consumed recently that has resonated with you? It can be a book, TV show, or movie. Why did it resonate with you?
The poet Seamus Heaney has had my ear for the last few months, and I don't quite know why. I bought a two-volume Faber and Faber collection years ago at the South Bank Book Market, and right now they are having a lengthy residency on my home office desk. There are many riches there, but the poem St. Kevin and the Blackbird stands out to me for how Heaney digs into the way we go about doing the right things. It's the decision that comes first, not the ability. In fact, only the decision sets up the conditions in which our wisdom and selflessness can grow. Heaney's Kevin may indeed "be in agony all the time" or "shut-eyed blank," but even so, he works so that "the young are hatched and fledged and flown."