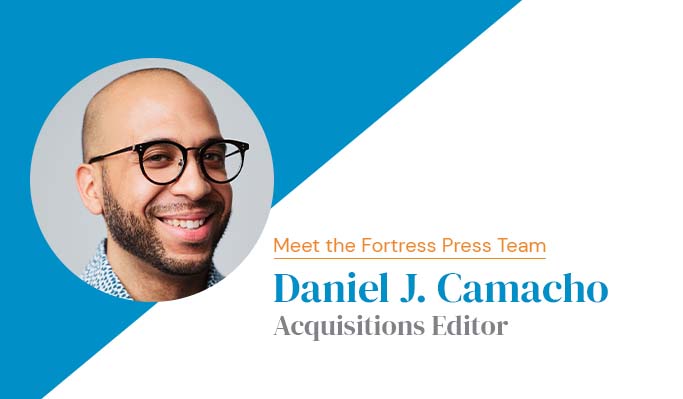 You recently attended your first Society of Biblical Literature/American Academy of Religion (SBL/AAR) conference with the Fortress team! How was the experience, and do you think you've gotten any interesting book proposals?
My first SBL/AAR, or "Religion Nerdfest" as someone called it, was full of great conversations, reunions, and connections. The conference was also exhausting and challenged the functionality of this high-functioning introvert. But that didn't diminish the highlight of getting to meet so many Fortress readers, authors, and future authors in person!
I received several interesting proposals and started having talks that will one day, hopefully, blossom into a book, multiple books, or even a series. Obviously, I can't share details here. All I can say is that I'm excited about what's to come and look forward to connecting with more writers as I grow into my role here.
What books are you interested in acquiring?
I'm acquiring broadly in categories that include history, philosophy, theology, ethics, biblical studies, journalism, and cultural criticism. I'm particularly interested in books that can serve as an accessible resource in the classroom or that have the potential to reach readers beyond academia.
Much like our own Yvonne Hawkins, you have a background in journalism. How do you see yourself applying your skills as a journalist to your new role at Fortress Press?
I've learned a few things from my time in journalism and the magazine world. One: it's important to connect the dots between specialized research and broader societal concerns and debates. Two: don't assume too much or too little of your audience. Three: get to the point. Some refer to this as the inverted pyramid. I like to describe it as doing the thing. In other words, just do the thing. Enough with the methodological throat-clearing. Don't theorize five levels around doing the thing. Stop obsessively telling the reader how you will do the thing. Just start doing the thing. Even the heaviest of research is best worn lightly, and with books, you can always elaborate in the endnotes.
I snooped on your Twitter and see you're working on a book on Bartolomé de las Casas. What inspired you to select him as the subject of your book, and could you give us a brief snapshot of why he's an important historical figure?
Las Casas was a bold Spanish friar who participated in the first debates about human dignity in the Americas during the sixteenth century. He crossed the Atlantic a staggering ten times total, knew Christopher Columbus's family and preserved the explorer's journal, delivered scathing criticisms of violent conquests, and defended Native American rights before the Spanish crown. At the same time, he's a complicated figure who's been criticized for having a savior complex and for being late to condemn the transatlantic slave trade.
I'm not interested in painting Las Casas as a saint, and I don't want to demonize him either. I chose him as a subject because I think his life raises important questions about the legacy of Christianity and colonial violence. I also have personal reasons for writing about him and this specific period. I'm of mixed Amerindian, African, and Spanish ancestry. Las Casas stands at the dawn of the history that produced people who look like me.
What is a piece of media you've consumed recently that has resonated with you? It can be a book, TV show, or movie. And why did it resonate with you?
I recently watched the film Everything Everywhere All at Once for a second time because I liked it so much. It's brilliant and hard to categorize. I love how the film is simultaneously hilarious (e.g., everything bagel), disturbing (hot dog fingers), and deeply philosophical (nihilism), while tugging at your heart strings with the mother-daughter relationship at the center of the story. When I later read an interview in which one of the directors, Daniel Kwan, shared that his religious journey influenced the film, I wasn't surprised. I felt the existential wrestling.