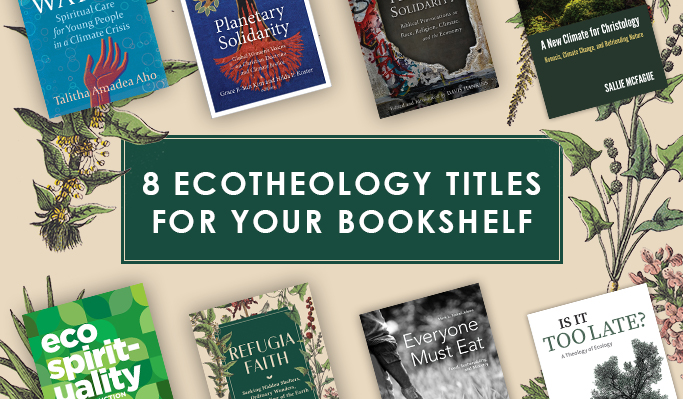 As our world is increasingly affected by climate change, our authors explore these events and our relationship to the environment through a theological lens. Below are books at the intersection of ecology, spirituality, and theology to help us understand what our roles might be in the midst of unprecedented climate change.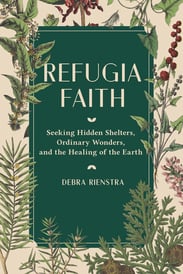 Debra Rienstra
Refugia Faith: Seeking Hidden Shelters, Ordinary Wonders, and the Healing of the Earth explores how Christian spirituality and practice must adapt to prepare for life on a climate-altered planet.
Refugia (reh-FU-jee-ah) is a biological term describing places of shelter where life endures in times of crisis, such as a volcanic eruption, fire, or stressed climate. Ideally, these refugia endure, expand, and connect so that new life emerges.
Debra Rienstra applies this concept to human culture and faith, asking, In this era of ecological devastation, how can Christians become people of refugia? How can we find and nurture these refugia, not only in the biomes of the earth, but in our human cultural systems and in our spiritual lives? How can we apply all our love and creativity to this task as never before?
Rienstra recounts her own process of reeducation—beginning not as a scientist or an outdoors enthusiast but by examining the wisdom of theologians and philosophers, farmers and nature writers, scientists and activists, and especially people on the margins.
By weaving nature writing, personal narrative, and theological reflection, Rienstra grapples honestly with her own fears and longings and points toward a way forward—a way to transform Christian spirituality and practice, become a healer on a damaged earth, and inspire others to do the same.
Refugia Faith speaks to people securely within the faith as well as to those on the edge, providing a suitable entry for those who sense that this era of upheaval requires a transformed faith but who don't quite know where to begin.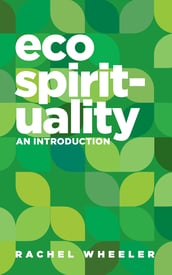 Rachel Wheeler
Ecospirituality, for the first time, comprehensively introduces and lays the foundation for further individual growth in the burgeoning field of ecospirituality.
Rachel Wheeler covers the background for environmentally oriented spirituality in the Christian tradition, beginning with expressions of creation care and creation degradation in the Judeo-Christian Scriptures, and moving through important moments and figures in the history of Christian spirituality. With this foundation in place, she reveals how expressions of renewed interest in creation care are showing up amid our compromised living habitats today, and shows what ideas laid the groundwork for beginning to speak of God, human identity, and human responsibility in certain ways. Turning to ecospiritual practice, Wheeler presents specific practices from a variety of global religious traditions, paying particular attention to Indigenous spiritual traditions. She also explores interdisciplinary areas that have combined some essential aspects of their own focus of engagement with ecology and, furthermore, with ecospirituality. Such areas as ecojustice, ecofeminism, ecowomanism, and ecopoetics all provide points of contact with the work that ecospirituality makes possible and have important implications for personal and social transformation.
Wheeler's concise introduction to ecospirituality is not only a foundation-laying tool for educators, but also a concise, thorough way for individuals and students to gain a comprehensive understanding of ecospirituality and why it matters.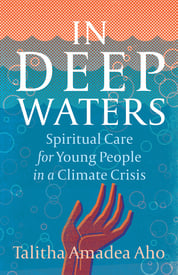 Talitha Amadea Aho
The starting point for In Deep Water: Spiritual Care for Young People in a Climate Crisis is not news: the world as we know it is shifting. Several millennia of climate stability have come to an abrupt end.
But, observes Talitha Amadea Aho, the young people of today do not remember stability. They see the world through crisis-colored glasses. Climate change is creating a spiritual emergency that is hitting their generation harder than any other.
Today's climate crisis calls people of faith to a communal spiritual practice of care, especially for those who are more vulnerable because of their youth—the children, youth, and young adults of Generation Z. We must learn how to offer spiritual care that is informed by the spiritual-ecological crisis of their generation.
This book will help you keep young people at the center of your community and listen to the troubles they have to share. Whether you are a Gen Z peer or a caring adult of any other generation, In Deep Water will show you how to offer ecologically informed spiritual care.
We all need to do it today; we cannot wait until one of today's youngest generations grows up.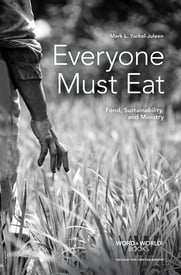 Mark L. Yackel-Juleen
Rural contexts are often over-looked, treated as "flyover land." But because everyone must eat, rural communities and their work in food production are important to the whole of society. Mark Yackel-Juleen spent many years in rural ministry and is the founder and executive director of Shalom Hill Farm. He offers valuable insight on the present issues of food production and environmental sustainability, and connects it in profound and practical ways to the biblical and theological tradition. The result is a clear set of powerful and actionable tools to help rural leaders and ministers address issues of sustainability and land use in their ministry. Everyone Must Eat masterfully shows how one can integrate the sociology of community, the secular realities of economics and public policy, and the powerful presence of God's word in order to practice faithful leadership.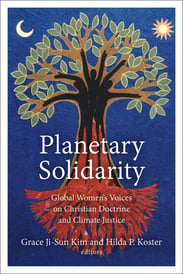 Edited by Grace Ji-Sun Kim and Hilda P. Koster
Planetary Solidarity brings together leading Latina, womanist, Asian American, Anglican American, South American, Asian, European, and African woman theologians on the issues of doctrine, women, and climate justice. Because women make up the majority of the world's poor and tend to be more dependent on natural resources for their livelihoods and survival, they are more vulnerable when it comes to climate-related changes and catastrophes. Representing a subfield of feminist theology that uses doctrine as interlocutor, this book ask how Christian doctrine might address the interconnected suffering of women and the earth in an age of climate change.
While doctrine has often stifled change, it also forms the thread that weaves Christian communities together. Drawing on postcolonial ecofeminist/womanist analysis and representing different ecclesial and denominational traditions, contributors use doctrine to envision possibilities for a deep solidarity with the earth and one another while addressing the intersection of gender, race, class, and ethnicity. The book is organized around the following doctrines: creation, the triune God, anthropology, sin, incarnation, redemption, the Holy Spirit, ecclesiology, and eschatology.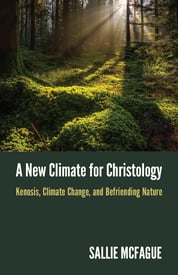 For decades, Sallie McFague lent her voice and her theological imagination to addressing and advocating for the most important issues of our time. In doing so, she influenced an entire generation and empowered countless people in their efforts to put religion in the service of meeting human needs in difficult times.
In this final book, finished in the year before her death in 2019, McFague summarizes the work of a lifetime with a clear call to live in "such a way that all might flourish." The way, she argues, is the "kenotic interpretation of Christianity: the odd arrangement whereby in order to gain your life, you must lose it. The way of the cross is total self-emptying so that one can receive life, real life, and then pass this life on."
A masterful and life-giving summing-up of a theology that makes a profound difference for us, our communities, and our planet.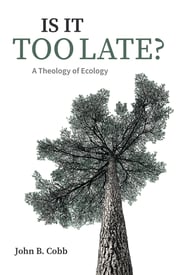 John B. Cobb
In the fifty years since its initial publication, Is It Too Late? has proven its prescience in ways both significant and dire. As the first book-length philosophical and theological analysis of the environmental crisis, this work introduced a generation to the key elements of crisis while suggesting ways that religion can be a force for hope rather than an instrument of despair. Covering an ambitious range of issues—from deforestation to abortion, from religious views of the natural world to the need for technological innovation to avoid nature's destruction--John Cobb moves deftly from philosophical to theological to scientific learning and integrates these interdisciplinary insights into a compelling vision for what he calls "a new Christianity." Comprehensive in scope, non-technical in expression, and concise in length, Is It Too Late? provides the scholar and the student alike with a readable and compelling orientation to the philosophical and theological stakes of ecology. This Fortress edition includes a new preface in which Cobb reflects on the current situation, the specific promises and perils we now face, and how his own thinking on matters theological and ecological has evolved in the last half century.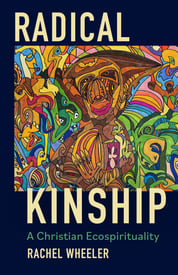 Rachel Wheeler
What does it mean to live in harmony with all of God's creation? How might our spiritual practice contribute to the healing of this place we call home, and to our own healing along the way? Rachel Wheeler offers compelling testimony for the value--and the life-giving power--of "rewilding." For conservationists, rewilding is a strategy of human restraint, of letting the wild enact ecological repair on its own terms. The "wild" is a quality of life beyond the control of the human. For Christians, a rewilding spirituality restores the life-generating and life-sustaining norms in which we were created to dwell.

Radical Kinship: A Christian Ecospirituality provides readers with both theoretical foundations for understanding a rewilded Christian spirituality for the twenty-first century and practical strategies for rewilding our own lives. Wheeler brings biblical foundations and the history of Christian spirituality into conversation with environmental ethics, ecopsychology, and ecopoetics. The frameworks she constructs bring Christian spiritual tradition back to its deepest foundations not only as a product of human culture, but as one shaped in large part by Christians in relationship with other-than-human members of the Earth community.
Coming May 2024